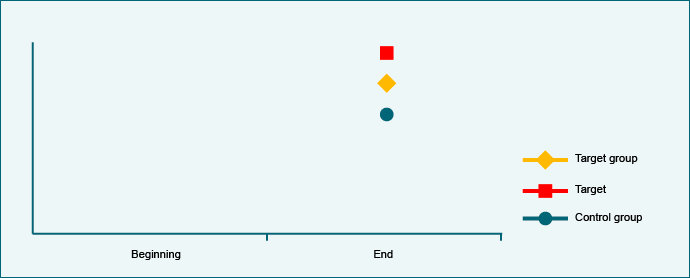 Characteristics
This is an occasional examination, whereby the situation of the target group is compared at a specific point in time with the objectives and with the situation of the control group.
Example
70% of young mothers in Region x know about the link between clean drinking water and health. That is more than in the control group, but less than intended.
| | |
| --- | --- |
| Advantages | Disadvantages |
| The investment in data collection is often still justifiable. | There is no link to the initial situation. It is not known whether and how the situation of the target and control groups has changed since the beginning of the intervention and whether they started from the same initial position. |
| It is a simple way of recording the achievement of objectives. | There are often no identical control groups. |
| If there are identical control groups, then assertions can be made about the effects of the project on the target group. | No assertions can be made about the project's sustainability. |
Suitability
This model is only partly suitable for steering and learning within the organisation. It can however be used for legitimation purposes with agreed objectives. It is used in practice when data about the initial situation is lacking or can only be obtained at a disproportionately high cost, and when there are suitable control groups.