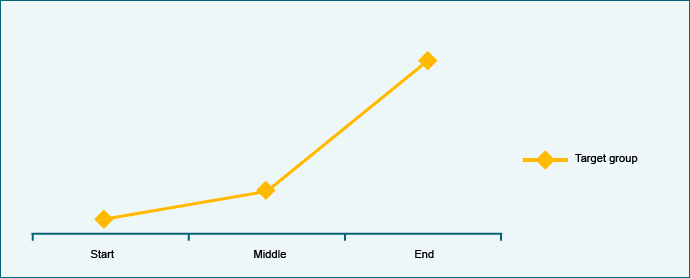 Characteristics
It describes how the target group of a project or programme develops, for example from the start and until the end of the project. Additional measurements provide information about the evolution of the project.
Example
70% of the rural population in Region x is within 15 minutes' walk to drinking water. At the beginning of the project, only 10% of the population was within 15 minutes' walk of clean drinking water.
| | |
| --- | --- |
| Advantages | Disadvantages |
| A plausible case can be made wether an intervention has contributed to the targeted effects or not. | It is not known whether and how the situation of the target group would have changed without the project. It is not possible to clearly attribute the results to the intervention. |
| The effort required for data collection can often be justified. | There is no link to the objective. It is not known whether and to what degree the organisation has achieved the planned results. |
| Methodological know-how is often available internally or else can be learnt. | No assertions can be made about the project's sustainability. |
Suitability
This model is suitable for learning from the observed changes, as well as for legitimising the project when making a plausible case for effects is enough. It is of use when there is data about the initial situation or else can be reconstituted at an acceptable cost, and if there is a lack of suitable control groups or if these can only be put together with a disproportionate amount of effort, or else if there are ethical reservations about a comparison with control groups.