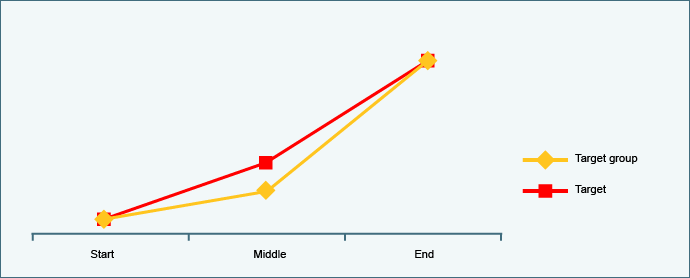 Characteristics
The target group's actual development is compared with the target group's planned development. Additional measurements provide information about the evolution of the project.
Example
80% of young mothers in Region x know about the links between clean drinking water and health. That is three times as many as at the start of the project and as many as intended.
| | |
| --- | --- |
| Advantages | Disadvantages |
| It shows the degree to which the set objectives could be achieved. | It is not known whether and how the situation of the target group would have changed without the project. It is not possible to clearly attribute the effects to the intervention. |
| A plausible case can be made whether an intervention has contributed to the targeted effects or not. | No assertions can be made about the project's sustainability.  |
| The investment in data collection (2 measurements) is often justifiable. | |
| The methodological know-how is often available or can be learnt. | |
Suitability
It is suitable for learning and especially for steering the organisation. It can also serve legitimation purposes when the agreed objectives require only a plausible case for effects and data about the initial situation is available, and if there are no suitable control groups or if there are ethical reservations about the comparisons with control groups.